May the Fourth Be With You
It is May 4th, so it is that time again to celebrate Star Wars!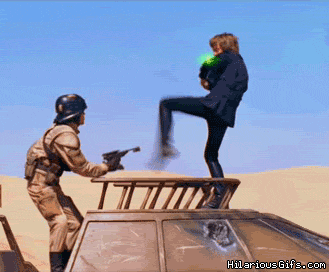 "Force Kick" is a completely valid explanation.
So here is where you tell everyone your best Star Wars stories. Is it awesome? Is it embarrassing? A little bit from column A, a little bit from column B?
Here goes mine:
Back when Episode III came out, I was working at a movie theatre. The second busiest movie theatre in (a big tourist city), so the midnight showing definitely drew a crowd. Plenty of cosplayers everywhere. As employees, we were also encouraged to dress up, so OF COURSE I DID.
(No pictures, but pretend I looked like this. Close enough)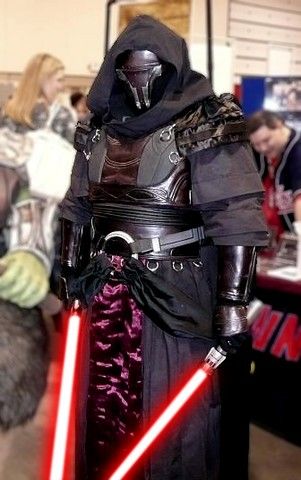 So there I was, serving popcorn and lightsabering, conducting business. But I had a sad, sad face. Because I wasn't going to get to see Episode III on opening night, because some bastard decided I had to work.
Well check it out! That bastard knew that I was a huge Star Wars fan, and knew there was something, just something nagging at my heart that night. I think the conversation went something like this:
Boss:

Why, Mike, you seem down. Vexed. Troubled. Friggin' blue as all get out.

Darth Michael:

My dear sir. This is the night in which perhaps a non-sucky Star Wars prequel is scheduled to premier. My hate seethes. Damn this popcorn to the planet Blorch.

Boss:

Well how about this, you sexy beast? Go forth. And watch. Unfortunately the only theater that still has a seat is the one with the VIP section. SORRY BUT YOU ARE GOING TO HAVE TO WATCH THE MOVIE WITH THE 501st LEGION.

Darth Michael:

This is acceptable.
So I got to watch the midnight showing of Star Wars: Revenge of the Sith, with 50 or 60 stormtroopers and at least three Darth Vaders and a Slave Leia. While I was supposed to be working and ha ha all the other suckers were still working!
_______________________________________________________________________________________________
So hey, this is where YOU get to share your stories. Because the Force is with YOU.
Here is a cat dressed like Darth Vader, and it is PISSED about it: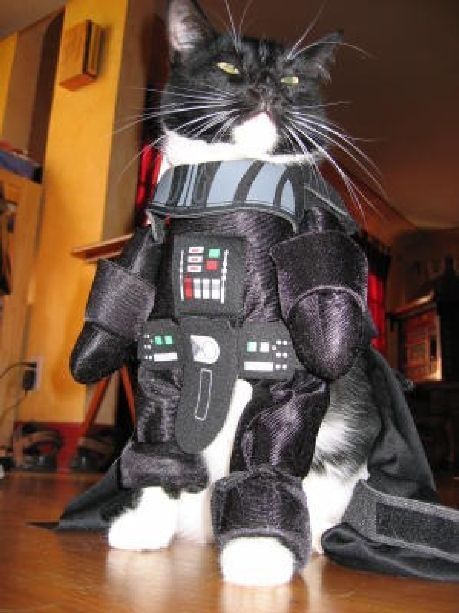 • [Fate RP] Romance of the Three Kingdoms: CE189
• PALADIN 769: The River and the Wizard-Knight
• The Trump impeachment inquiry is underway
• Donald Trump tells congresswomen to go back