This game might only work for those with a Twitter, but I don't want to bother with actually Tweeting it. It's Facebook fun with Twitter handles! I restricted it to actual people, not organizations or joke accounts, and skipped repeats.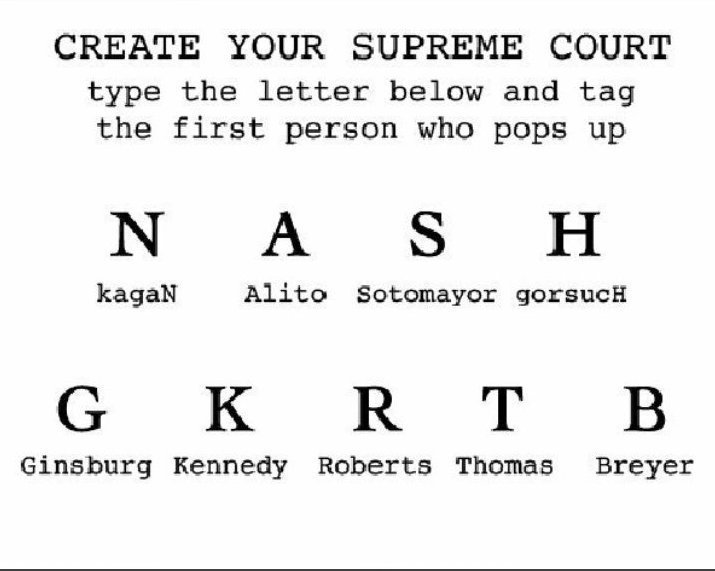 (I'm not sure I like the letters they chose...wait, no, I'm sure, they're dumb)
N:
Sarah McCammon
is one of my favorite NPR reporters, because she has an evangelical background, and thus reports on them with greater accuracy than most. She currently covers the White House for NPR. I don't know how well she would do at interpreting the Constitution and laws, or if she would lean liberal or conservative.
A:
Andrew Donaldson
is a conservative who I've found to be generally level-headed and smart. He would try his darnedest to be fair, but he's no law scholar either.
S:
Kimberly Ross
is a fiercely pro-life NeverTrumper who doesn't take crap from anyone. I don't agree with her all the time, but I respect her. She would surprise both liberals and conservatives, but lean conservative and would vote to overturn Roe v. Wade.
H:
Hank Green
runs several science/educational YouTube channels and is a long time Youtuber (he co-founded Vidcon). He's funny, intelligent, and pretty liberal. He would be the strongest liberal voice in my Court.
G:
Tyler Grant
writes for the National Review and is a lawyer. Another conservative vote, but at least he has legal training.
K:
Kai Ryssdal
is the host of Marketplace, a business news radio show broadcasted mainly on NPR stations. He's been covering the economy for decades, and I trust him when it comes to economic news. I think he would lean liberal, but wouldn't be surprised if he sided with conservatives from time to time.
R:
Rob Cesternino
played Survivor like over a decade ago, but has made a living in podcasting about TV (mostly Survivor and Big Brother). I have no idea how he would lean, but he'd go for the blindside all the time.
T:
ME!
A lifelong, well-paying job? Yes please!
B:
Megan Batoon
is another YouTuber, but she does dance, DIY, cooking, and vlog videos. She's punny and has her crap together at 26. She's my hero/crush. She might be a swing vote. IDK.
Overall, it's an almost balanced Court, unless those who's leanings I don't really know surprise me. But then again, they'd be my colleagues...