https://www.thestar.com/news/world/2018 ... arges.html
ANNAPOLIS, MD. — A man with a long grudge against Maryland's capital-city newspaper was charged Friday with five counts of first-degree murder after police said he blasted his way into the newsroom with a shotgun in an attack that left four journalists and a sales employee dead.

Jarrod W. Ramos, 38, was swiftly arrested as he tried to hide under a desk Thursday afternoon at the Capital Gazette in Annapolis, police said.


https://www.bbc.com/news/world-us-canada-44654077
Staff at a Maryland newspaper have published a Friday edition after a gunman killed five people and injured two more at the paper's office.

"We are putting out a damn paper tomorrow," tweeted Chase Cook, a Capital Gazette reporter. Staff worked in the car park to get the paper out.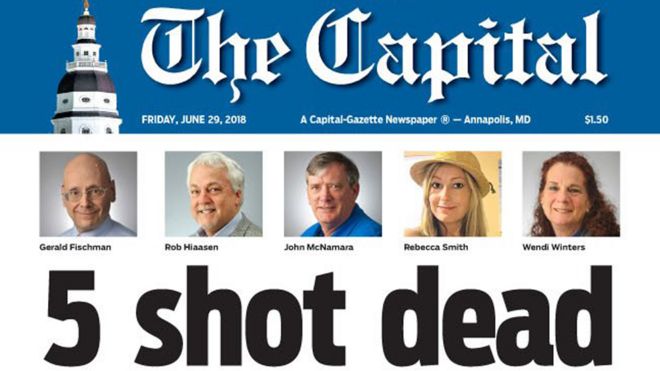 The Gazette reportedly wrote an article in 2011 about a woman who said Jarrod Ramos was stalking her, and he failed in his attempts to sue the paper for defamation the following year.

Police did not ascribe any motive after arresting him following Thursday's attack.