I tried to decide whether to put this in my review thread or dedicate a whole thread to it, and I decided it was a big enough game that I had so much to talk about that I might as well give it it's own thread. The other thread's more dedicated to little games I play here and there between the big ones. I thought it'd take me longer to beat this, but I went from the lantern I was at to the final boss within an hour, so here we are.
Anyways, this is Bloodborne.
I wanna start out talking to the people who have played it to measure dicks, then I'll get into the good/bad of it.
For those who have played before: I took a build that split all my levelup points between stamina, strength, and vitality. It was my second playthrough, because I realized I missed some people for the chapel and wanted to do that part completely, so I restarted my first playthrough before the Witch, and everything after was a blind play. I lugged around a Kirkhammer but tended to just use the Sword of Elendil that it offered me as a regular weapon. The hammer itself only came out with the slower bosses or against mobs (though I somehow managed to get in a few hits on the vanilla end boss with it).
So, a quick breakdown of my thoughts on the bosses:
WARNING. If you haven't played yet, next bosses spoilered for being...spoilers.
Anyways, with the obligatory dick-measuring out of the way, to the review.
I've played some of Dark Souls 2 and 1, and I've seen an LP of 3. Those games frustrated me in a way I reaaaaallllly hated, but this one doesn't as much. I'm actually kinda warm on the game--I'm not gonna consider it worthy of the 9s and 10s that every reviewer in the world did, but I will say it's a huge step up from Souls. Perhaps part of that is simply that I was better at this game, for some reason. Combat flows a lot quicker here than in Souls, and it encourages a very countering/offensive mindset in comparison to the more lumbering Souls series. It's also a tad more forgiving of mistakes in boss battles, where you're not immediately fucked for making a mistake or two. Rather than playing the boss perfectly, you just have to learn them to an extent that you can time your heals to make up for any mistakes.
You have to get into a certain mindset with this game. I would get cocky occasionally and say "I'm better than you" as I killed an enemy I was farming for blood vials, then I'd be like "Don't do that, Doods. This game hears you when you get cocky and spring an executioner down on you for your sin." I rarely get this intense and careful in a game.
THE GOOD
I adored the actual fighting of it when it wasn't being a dick. I said at one point that I realized you gotta play this slow, but that's wrong. What it actually is with this game is that you have to be PATIENT, and it's a big difference. When someone attacks you, you have to move at lightning speed to get away, but you also have to accept that sometimes you're out of position at the end of an enemy's combo and can't strike back without getting hit, so you circle around and wait for another attack or opening. This plays like Dark Souls on fast forward, where the biggest and slowest bosses (with the exception of Rom) still fling themselves at you at warp speed.
The bosses almost all require wildly different approaches. Some like the Shadow of Yahrnam require you to keep your spacial awareness about you without actually requiring anything too complex. Some are big and stompy, requiring a lot of movement. Some summon adds, requiring you to go around murdering the adds while keeping one eye on a boss that's trying to fuck you (or lure the adds away so you can get at the boss for a couple hits). These were some of the best designed boss fights I've seen (Except for a couple [Merolash, the Celestial Emissary]).
The world of Bloodborne and the music is incredible, and most of the bosses (Maria, Vicar Amelia, Rom, and Ludwig in particular) stand out visually. The music is some of the best I've heard in a while, and there were several times I just had to stop and stare at the distant scenery, always exciting because like Skyrim, if you see it you can eventually go to it. The OST was good in the core game but mind-blowingly awesome in the DLC, with Maria's fight in particular receiving an awesome track for its efforts.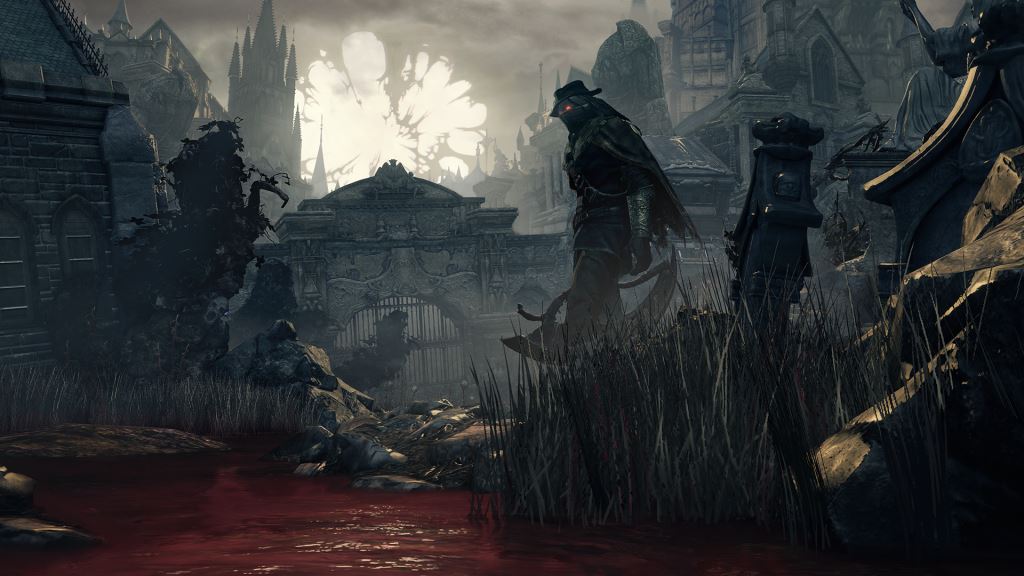 Even though I'm going to criticize the story, I also liked that this one took strides forward compared to Dark Souls. Where the others told you NOTHING about what was going on, this one at least dropped a lot of clues right in front of you. The lore itself is excellent. Lovecraftian horror is not a new setting, but it's rarely done in a way where it doesn't feel like a direct rip off, and it wasn't here. I like the idea that humanity (and to an extent, you) are the ones causing all the problems. Humans decided to start looking into Eldritch gods, so they decided to lock all that shit down in return. Then you start kicking open their doors when they're just trying to do their thing. Can't we all just coexist side by side, Great Ones and humans? That said, I never...really understood why I was killing them. It took me forever to realize what the Hunt was about, and once I was there, I was like "Wait, then why am I just kicking in the door of cosmic beings and murdering all of them?" I think it has something to do with that woman who keeps showing up with her stomach all messed up and the baby cries, but it took me literally until typing this sentence to string the whole deal together. I'll get more into the plot in the bad section, too. Favorite character: Eileen the Crow. I know they leave her fate ambiguous in the end of her questline, but I like to think she made it.
I also really liked the way the maps looped on themselves. You navigate using lanterns as 'save' points where you can return to the home base to level up/buy/upgrade shit, and the way each area works is it's a very long distance to run through from the beginning to the boss, but there are always locked doors and elevators that drastically shorten the trip to the lantern if you can find them, thus making the trips from lantern to boss less painful. It was excellent design, and I'm really glad they did it this way rather than forcing me to run through entire mobs of enemies.
Enemy variety was also fantastic here. Every area I went to had something new for me, and though some were complete pushovers, others would completely blow me away every time I tried to fight them, and I kinda like that dichotomy. Except for an area leading up to the Orphan of Kos where boulder throwing giants are just covering each other's back as you take insanity damage, I never felt the need to bypass anything.
Exploration is also greatly rewarded. Exploring every nook and cranny nets you items (though I had enough insight by the end to just blow them all on gear) and sometimes gets you little tidbits of lore. I always like a game that gives you room to explore.
The co-op component is really cool. I like helping people out with their bosses, and I ended up often switching between them to get gud. That said, there was one funny moment where I dropped in on somebody who was an opposing faction from me (I became a vampire) when he was looking for someone to fight Maria, surprised him, and quickly murdered him. I would've felt bad, but the nearest lantern was like...two feet away.
Character builds can be hit or miss, and it was a shame there wasn't really magic in this, though there are some items you can use that compensate(a bit). It really feels like there's a superior build (the one I inherently went after) and everything else just makes the game inordinately difficult for you. Things like the Daggers of Mercy are really cool, it's just a shame they make every fight take ten times as long if you use them. The variety of armors and such, however, are pretty cool.
The Bad
The plot. I have gone on about how much I hate the praise this and the rest of the Souls series get for the plot. I was talking to somebody who's also a huge nerd where games are concerned, and he was like "You know, you love Transistor, which is super opaque, why do you hate Souls storytelling?" and I had to think about it. At the end of the day, it's because I have a very clear objective in a game like Transistor: Go kill the guys that tried to kill you, or they'll get you first, while all the themes and lore outside the main plot are very opaque and require a lot of thought/puzzling together, but that's fine when it's garnish around a core story. Here, I didn't really understand what I was actually doing as a character all through this game. Why is my character just suddenly up and murdering people en masse? What's the Hunt? Why are monsters murdering other monsters? What are these hunters supposed to be hunting and why are the vast majority of them attacking me? Why am I (as in, this character) going through all this instead of just getting in a carriage and going home? It's funny, because I actually got a lot of the lore where I didn't get much of the main story.
Speaking of opaqueness, this is a Japanese game through and through, which is to say: The same as it's evasive about its story, it's also very evasive about where sidequests and optional bosses are. It's one of those games that are like: "This quest opens up for five minutes and requires you to search a guy you already searched or it's in a part you already cleared and have no reason to revis...okay, never mind, you killed another boss and now you can't do it anymore". I was following a guide and still completely missed a guy in the DLC that will die in the end and give me his weapon before the final battle, thus missing me a trophy. It's frustrating, basically, because it's a difficult enough game in it's own right, and it's irritating to miss things in a game that really disincentives backtracking through areas you've already cleared.
Different factions are cool, it's just a shame they don't really reward you for joining them. Once I started giving the vampire queen more blood sperms I ripped off people(no, really), I realized I wasn't going to get anymore rewards after the second one.
Also irritating are enemies with what I call the "Technically Not a One-Hit KO Combo". This usually comes in the form of the giants, who will set a combo that will utterly fuck you if you get hit from the outset, either because your character takes forever to get up from the last hit, or because you don't have time to skip back and heal between hits. It gets very annoying. It's made worse by the character taking their sweet time to heal, needing about twenty meters of clearance on each side before they can heal without just getting hit again. Many enemies won't give you that, or you'll need to heal right there to survive the next hit so that you can then heal for real.
I like the idea of the parry using your gun, it's just a shame that as you progress through the game, getting those shots become increasingly difficult even on normal enemies. I eventually just gave up on the gun and primarily used my sword, because it just felt like there was no point to trying anymore. It was especially galling in the final few boss fights, where they have eight million moves and only one of them actually gets stunned with the pistol, and you rarely know which one they're going to use before it's already on its way. On the rare occasions I would get the parries, it wouldn't let me activate the heavy-damage-dealing visceral hit unless I was in the perfect spot for it, which also bugged me.
I often hear people call Dark Souls and Bloodborne "Tough but Fair". There is literally nothing fair about Bloodborne. Enemies will jump out from behind doorways you just passed through and grab you to cut your throat. Some enemies can potentially call players to come kill you. Still others will be waiting near a cliff or high place for you to walk by, trying to get you to either dodge to your death or just outright hit you to your death. Sometimes the shining glowing item will catch your eye and you'll go to grab it...and an enemy will jump down and begin thrashing you. Sometimes enemies will be set up so that you'll fight one in front of you, but there's a little alcove behind you with his friend waiting to jump your ass, and there's rarely a way to know until they're directly on top of you.
There are items and mechanics I never cared to use, like stopping people from healing, the Beast Mode, daggers, and basically just skipped most of the items because I felt like they didn't really give me a noticeable edge in combat, except for the ones that healed status effect and applied buffs to my weapons. Also, sometimes I'd use a pebble to throw at somebody if I wanted to lure them away from their big buddy.
Then there are the chalice dungeons. Like much of this, it's less bad design so much as personal preference. The chalice dungeons are just procedurally generated levels that end in a boss before leading to a lower procedurally generated level, all the way down until you beat the final boss. There are 7 of them, I believe. I got through one, hated it and never did another one. There are people that like this kind of design, but I prefer journeying through a world than just going from one level to the next.
All Told
I think the only thing that kept me going with this game was the realization that I was really digging the aesthetic (Seriously, this may be one of the best Gothic horror settings in a long time), and by the time I'd gotten to Rom I was invested in completing every boss in this game so nobody could question that I'm at least a step above an average scrub when it comes to games. Now though, I kinda wanna play it to get the vanilla ending and to learn up on some of the lore. Maybe I simply beat it in a battle of attrition, but now I've gotten Stockholm Syndrome'd by it and wanna keep going.
So in the end, I don't think this was a perfect game, but I still ended up enjoying it far more than I thought I would--even with all the drawbacks. However, I think it far outstrips the Dark Souls series (though, let's be real, it's still a Dark Souls game). I'd recommend people who like difficult games or Lovecraftian horror to give it a shot. If they make a second one, I'm in.