La Fine Cuisine avec LaChaise, episode 4
Hello ladies and gentlemen!
Do you think that the scotch, while fantastic, isn't enough for you anymore? Are you craving those "nutrients" the cool kids on the block are talking about?
Well search no further, for I am hereby presenting to you
La Fine Cuisine avec LaChaise!
No my friends, you're not dreaming. Another recipe, just one day after the last!
I'M ON FIRE, BITCHES!
Hem...
Today I tried to make Katsudon. Thank Kate for that, that was her suggestion. Good job Kate, it was an awesome idea!
The thing is, I always wanted to try making katsudon but I never did because the only dishes I ever failed were japanese. I kinda have cooking PTSD. It turned out great, so I'm quite relieved.
For 2 servings (yeah it's more intimate this time. This dish will get you
so
laid), you will need:
-2
pork
or
chicken cutlets
-1
onion
-1 cup (250ml)
chicken broth
-1/4 cup (70ml)
mirin
-1/4 cup (70ml)
soy sauce
-1-2 tbsp
sugar
-
Ginger
-3
eggs
-
Flour
-
Salt & pepper
-
Vegetable oil
-1 cup (100g)
panko
(and if you can't find that,
bread crumbs
should work well as long as they aren't too thin)
Enough talking, more cooking!
First, slice the onion and the ginger. The ginger slices should be really thin. As for the quantity, it depends on how you like it best.
It also depends on how much you want to get laid tonight.
That shit is powerful, you've been warned.
Once that's done, put the onion, ginger, soy sauce, chicken broth and mirin in a pan, and let it simmer for 10-15 min. Put the fire on the lowest setting, you don't want the awesomeness to evaporate in front of your desperate eyes.
While you're there, cook the rice. It's not a problem if it finishes cooking before the rest, you can just put it on the side and warm it up a bit when you'll serve.
Now put the eggs in a bowl and mix them until you get a homogenous mixture. Add salt and pepper to your liking.
Fascinating.
Pour some flour in a dish, and roll your cutlets into it until they're completely covered. Now dip them in the egg mix, and then in the bread crumbs. Dip them in the egg mix once more, and back in the bread crumbs. You want the crust to be thick enough to stay around the meat even after soaking in the broth.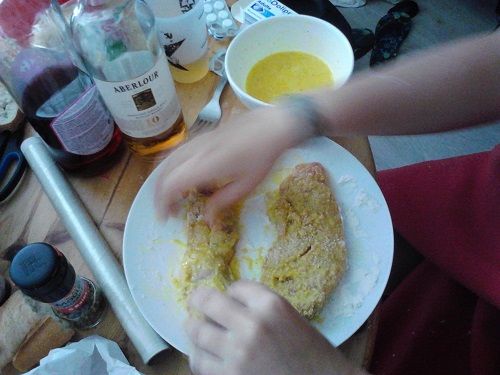 This isn't the only piece of meat which will double dip tonight...
Now that the broth has simmered long enough, put it in a bowl, pour some oil in the pan and put in the meat. The fire should be around medium-high if you want a crusty crust. Keep cooking it until it gets brown.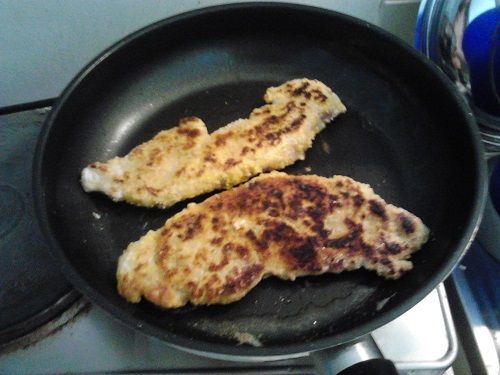 It should end up looking like that.
When that's done, pour the broth on the meat, and let it on low fire for one minute, two at most. More and you can say farewell to this crust you worked so hard to get. And your date.
Finally, put out the fire and cut the meat in thick slices.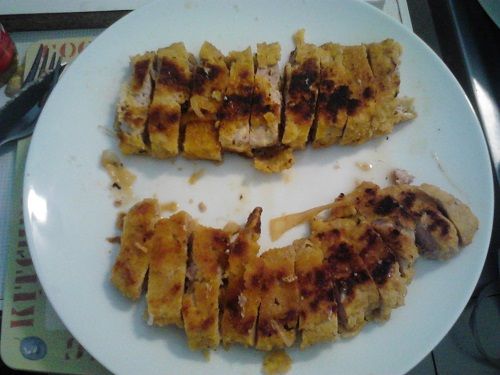 Now serve the rice with the cutlets, and pour some broth on it.
If your evening doesn't have a "happy ending" with that,
I'm afraid you're destined to a life of solitude.
Voilà! You now know how to make an awesome katsudon. Bon appétit, and see you around for another episode of
La Fine Cuisine avec LaChaise!
You can also make suggestions, I love discovering new recipes as much as I love to share them! (If you want to learn how to make something in particular, or use me as a crash-test dummy, just tell me the name of the dish, I'll find a recipe by myself.)

• [Fate RP] Romance of the Three Kingdoms: CE189
• PALADIN 769: The River and the Wizard-Knight
• The Trump impeachment inquiry is underway
• Donald Trump tells congresswomen to go back