La Fine Cuisine avec LaChaise, episode 3
Hello ladies and gentlemen!
Do you think that the scotch, while fantastic, isn't enough for you anymore? Are you craving those "nutrients" the cool kids on the block are talking about?
Well search no further, for I am hereby presenting to you
La Fine Cuisine avec LaChaise!
Today, I will present to you one of my favorite dishes: the Osam Bulgogi. Bulgogi is a general korean term for sauteed/barbecued meat. This version is using pork and squid.
For those of you who can't or don't eat pork and/or squid, I will also give you my beef bulgogi recipe in the next post. Religion, allergies and tastes shouldn't keep people from eating delicious stuff.

Power to the dishes!
Hem.
Let's start!
For 4 servings, you will need:
-Between
2 and 4 whole squids
, depending on their size
-0.8 pound (400g)
pork
(preferably belly, but any part without bones will do)
-1 1/2
onion
-2 tbsp
vegetable oil
-3 tbsp
sesame oil
-4 cloves of
minced garlic
-4 tbsp
soy sauce
-2 tbsp
sugar
-10g
Fresh ginger
-
Sesame seeds
-
White rice
Now the following ingredients are optional. You can do as well without them, it all depends on how you're feeling it.
-
vegetables
(I usually put carrots, some people add bamboo shoots, green peas... do as you like. Just don't put too much stuff, you'd kill the flavor)
-
gochujang
: it's a korean hot pepper paste, they put it in pretty much everything. A korean would kill me for putting that in the optional category, but occidentals can find it too spicy
-
kimchi
Okay, do you have everything ready? Then let's start!
Start by cutting the onions, squid and pork in small bits. Mince the garlic while you're at it.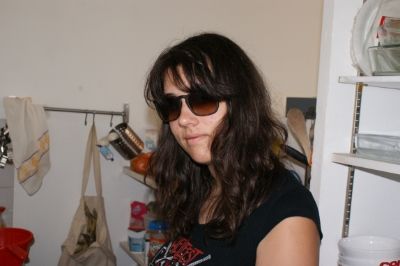 Marilou has learned from the last time. No more crying.
(Also, she said JamesT was an inspiration for her, just wait until she's got the beard part covered.)
Next, put all that shit in a wok (or a pan if you're poor like me) with the vegetable oil.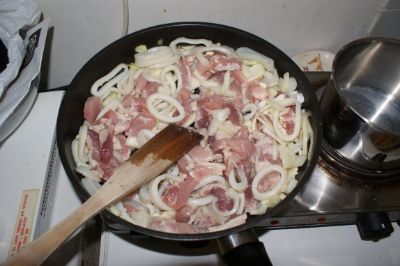 Put the fire on medium, and let that cook for at least 10 minutes. Maybe more, the squid has to lose all that water. Don't forget to stir it up from time to time, you don't want it to stick.
Meanwhile, cut your vegetables in thin slices.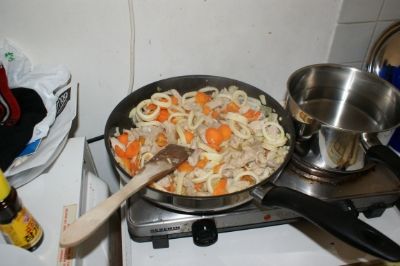 I used carrots.
Of course I did.
After a bit (five minutes or something like that, don't go watch a GoT episode either), put the sesame oil, soy sauce and sugar, as well as the sliced ginger. The quantities I put are only a suggestion, put more or less of those until you've found the perfect balance for you.
If the squid's water isn't enough to have a liquid sauce, add half a glass of water.
While all this mass of goodness finishes gently cooking, take care of the rice.
Once it's ready, just add one or two pinches of sesame seeds to the mix. Make the bitch beautiful.
Voila! You've got yourself a fantastic osam bulgogi! Ain't the world a beautiful place?
Just look at her. She's asking for it.
Bon appétit my friends, and see you next time for another episode of
La fine cuisine avec LaChaise!

• [Fate RP] Romance of the Three Kingdoms: CE189
• PALADIN 769: The River and the Wizard-Knight
• The Trump impeachment inquiry is underway
• Donald Trump tells congresswomen to go back