Amanda Bynes: The Next Nickelodeon Rapper
Drake and Nick Cannon have two things in common: they're rappers and they come from Nickelodeon. Nick Cannon was a cast of
All That
and hosted his own show creatively called
The Nick Cannon Show
. Drake starred as a wheel-chair bound character in the show
Degrassi: The Next Generation
that aired on Teen Nick before beginning his career as a rapper with amazing and ground breaking lyrics such as "YOLO" and "Tryna make some cheese off a single is a process/ Get it? Kraft, single, cheese, process." Something about Nickelodeon brings rappers out of the woodwork years after they've left the network. This, of course, begs the question: who is the next Nickelodeon star to become the next biggest rapper of the century?
It can't be Drake Bell, because he has a band that isn't hippity hop. It can't be Josh Peck because he's too busy
fighting North Koreans alongside Thor.
Victoria Justice still has a show on the air and Miranda Cosgrove is too small and girly to be a rapper.
After doing math and science with chalk and rap equations, I came up with the perfect candidate of the next Nickelodeon rapper.
Amanda Bynes.
Amanda Bynes already looks pretty
ratchet
. Just take a look: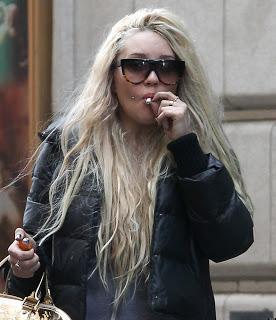 She's practically screaming "I'm gangsta!" She's like Kesha, except better looking! I'm sure you can imagine her on stage like this:
Screaming lyrics about fucking dudes and getting money.
And she has had clashes with the law! She was caught
driving drunk
and was charged with
hit and run
. So, in a way, she was involved in a drive by.
The law has even forsaken her in her hour of need, something many rappers have dealt in the past.
Obaaaaaammmmmmma!
You ain't rapper unless you fought the law and the law ignored your tweet. Amanda Bynes has more street cred than Victoria Justice and that woman is half-Latina. And she definitely has more street cred than Disney Princess Miley Cyrus. Sure, Miley Cyrus may have given a lap dance to a man several years older than her and took provocative pictures with her cell phone, but she doesn't have street cred. Has she fought the law? Maybe, I don't know. I'm not doing the fucking research. Also, I'm not sure why I brought up Miley Cyrus.
Now that we're done with credentials, let's talk music. Her music could cover deep issues that rappers Drake and Nick Cannon rap about. Things like having lots of sex and making a lot of money. You know, sociopolitical issues. Her lyrics can take shots at current Dan Schneider shows too. Maybe she feels abandoned by the Nick show creator and might take it out on Victoria Justice with lyrics like:
I'm gonna fuck that bitch from Victorious
Eat her out so bad it'll make her delirious!
After I'm done I'll put her on a leash
Then fuck her again 'till she screams "Amanda, please!"
You see that, Amanda? This is fucking gold! I'm practically giving you your own renaissance. You'll make millions. I'll make millions if you let me be your songwriter.
Now, she needs a stage name. Perhaps Byndes? It would be a pun on her name! Bynes, binds! She could dress up as a dominatrix during her videos and photo shoots and her live concerts. Leather, fishnets, and other BDSM stuff I don't know about. She'd be like Nick Minaj and Lady Gaga combined! Of course, if she doesn't like that name I have others:
-Judge Trudy
-Moody
-Taynt
-Crazy Courtney
Her debut album could be named
Amanda, Please
or
The Amanda Show
. It will have an Explicit Content sticker because she'll be so fucking hardcore! More hardcore than that pansy-ass Drake. She'll have songs with titles like
Obama, Why Didn't You Tweet Me?
,
I'm Victorious
,
35 Pounds
, and
Hit and Run
.
She could start a rivalry with Nicki Minaj and talk shit about her on the radio. To get more publicity for her debut album, she'll talk about having sex with Dan Schneider, Drake Bell, Josh Peck Ariana Grande, Liz Gillies, and Victoria Justice. It's fool proof, I tell you.
So, Amanda Bynes, please be a rapper. Continue the tradition of Nick stars being tough and hood and gangstas. You'll be loved by the public. Or at least by a certain demographic that calls Nicki Minaj talented.

• [Fate RP] Romance of the Three Kingdoms: CE189
• PALADIN 769: The River and the Wizard-Knight
• The Trump impeachment inquiry is underway
• Donald Trump tells congresswomen to go back